Chicken Tikka & Rice Tin Fuel Your Preparation Freeze Dried Meal Bulk Camping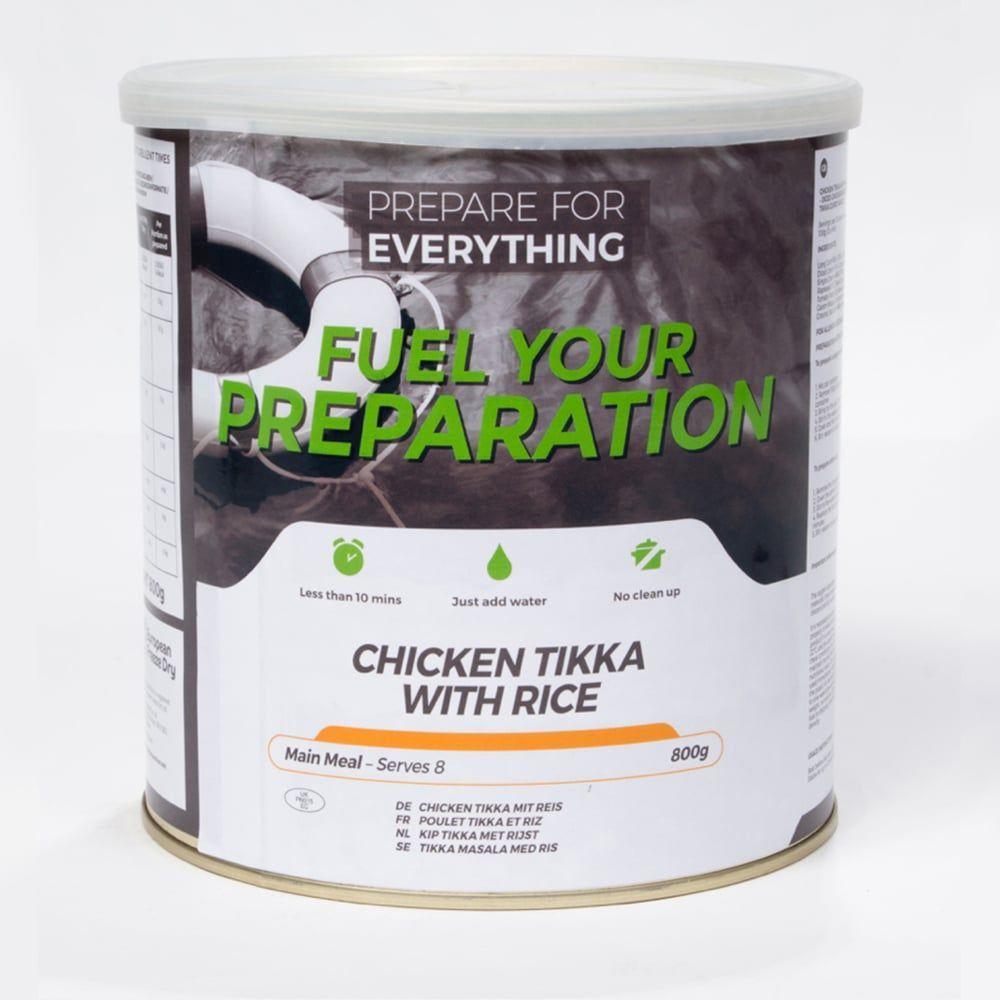 Chicken Tikka & Rice Tin Fuel Your Preparation Freeze Dried Meal Bulk Camping
If you're looking for a delicious, recognisable meal to add to your emergency food supplies, then our Chicken Tikka with Rice Tin could be just what you need.
A fantastic twist on a traditional favourite, our curry mixes chicken, vegetables and spices with a rich and warming tikka sauce and fluffy white rice to create a hearty meal that can feed 8 people in no time at all.
Due to being cooked prior to freeze-drying, preparation is incredibly straightforward; just add water to the tin and wait a few minutes for everything to rehydrate. Each tin benefits from a 25-year shelf life. This means that each tin is a fantastic option for those looking to ensure that they are prepared for any situation, from being cut off due to bad weather, to simply needing to feed a group of people quickly in a hostile environment such as on a trawler or oil rig.
Allergens listed in bold:
Long Grain Rice (30%), Chopped Tomatoes, Diced Onion, Cooked Diced Chicken (11%), Single Cream (Milk), Plain Yoghurt (Milk), Rapeseed Oil, Tikka Curry Paste (3%) (Spirit Vinegar, Tomato Paste, Sunflower Oil, Ginger, Garlic, Coriander, Garam Masala, Coriander Ground, Sugar, Paprika Ground, Sea Salt, Milk Powder Skimmed, Lemon Juice Concentrate, Cumin Seed Ground, Fenugreek Ground, Cardamom Ground, Chilli Powder, Lactic Acid, Bay Leaves, Thickener (Xanthan Gum) Preservatives ( Ascorbic Acid, Potassium Sorbate)), Garlic, Cornflour, Chilli powder.
| NUTRITION PER POUCH (70G) | NUTRITION PER 100G |
| --- | --- |
| Total KJ | 2280 |
| Total Kcal | 546 |
| Fat Total (g) | 30.0 |
| From Saturates (g) | 6.7 |
| Carbohydrate Total (g) | 51.0 |
| Available (g) | 46.4 |
| Carbohydrate From Sugars (g) | 5.5 |
| Fibre | 4.6 |
| Protein (g) | 15.6 |
| Salt | 0.9 |
Earn

0

reward points
841100
DELIVERY & RETURNS
Learn how to edit the text in this section by looking at your theme's notes section