Summit to Eat Food Dry Ration Pack Camping Outdoor Meal Full Range Freeze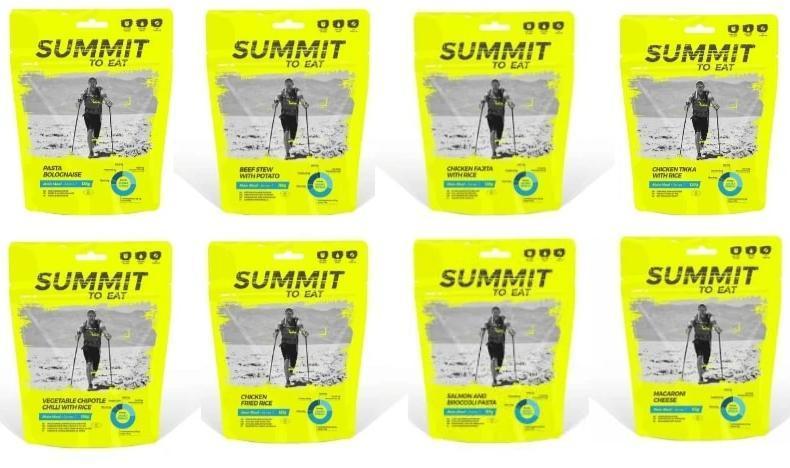 Summit to Eat Food Dry Ration Pack Camping Outdoor Meal Full Range Freeze
Summit to Eat MRE Food Dry Ration Pack Camping Outdoor Scout Meal Full Range
Product Description
Summit MRE
MORNING OATS WITH RASPBERRY
Make sure every day of your grand adventure gets off to an unbeatable start with our Morning Oats with Raspberry breakfasts. These pouches of creamy rolled oats and delicious raspberry pieces provide a nutritious, scrumptious and energised breakfast meal, ideal for any adventurous trek, tour or excursion. Whether you need fuelling up before a day-long hike in the great outdoors, a challenging cross country ski trip, or a heart-racing mountainous climb, our fruity oats can give you just what you need to start your day.
SCRAMBLED EGG WITH CHEESE
The perfect hearty breakfast for starting any adventure properly, our delicious Scrambled Egg with Cheese is made from a tempting mix of creamy scrambled egg and our delicious cheese sauce.
CHICKEN FRIED RICE
When you're off on an adventure, you are often without a few of the comforts of home. One of those is a decent takeaway. Thankfully, our amazing Chicken Fried Rice is the next best thing.
Combining succulent chunks of chicken, corn, peppers, green beans and onion with egg, rice and a fabulously rich teriyaki sauce, it creates a delicious and nutritious meal that's the perfect campfire tea. Weighing just 121g, each pouch is designed to be light enough to travel with, ensuring you can enjoy a delicious meal wherever you are.
SALMON AND BROCCOLI PASTA
For a really decadent campfire treat, look no further than our sublime Salmon and Broccoli Pasta. Each pouch contains a delicious mix of tender chunks of salmon, broccoli florets and pasta spirals all brought together in our fantastic creamy sauce.
VEGETABLE CHILLI WITH RICE
Spice up your meals with our fabulous Vegetable Chipotle Chilli with Rice. Suitable for vegans, this house-favourite smokey chipotle chilli sauce provides mouth-watering spice and is enhanced with the addition of rich, dark chocolate to provide a deeper flavour. Combined with peppers, cauliflower, onions and kidney beans, the sauce is transformed into a warming and hearty vegetable chilli.
MACARONI CHEESE
You can't get much more comforting than a portion of hot, cheesy macaroni. Perfect for vegetarians, our Macaroni Cheese uses our sumptuous three cheese sauces. It combines Cheddar, Mozzarella and Leicestershire cheeses to create an amazingly rich and creamy sauce, which is perfect for covering our traditional Macaroni Pasta.
BEEF AND POTATO STEW
Take a piece of rustic Britain along with you on your journey by packing some of our delicious Beef and Potato Stew meals. Our meals stand out from the crowd because ours are cooked first before being freeze dried, which makes them taste even better than others might once they have been rehydrated. This means that we can consistently provide you with high quality, convenient meals without compromising on any of the nutritional value and great flavour that you would come to expect from a tasty home cooked meal.
CHICKEN FAJITA WITH RICE
A true campfire favourite, our Chicken Fajita with Rice is fantastic on its own or in a wrap. Tender chunks of chicken in a spicy fajita sauce, made with plenty of peppers, garlic, cumin and paprika, are combined with rice helps to create a delicious, warming campfire treat.
CHICKEN TIKKA WITH RICE
Sometimes, you just can't beat a curry, and our Chicken Tikka with Rice is no different. Made with tender chicken breast pieces and cooked in a traditional sauce recipe, it's packed with aromatic spices, chilli, onions and tomatoes, and served with fluffy white rice.
PASTA BOLOGNAISE
At the end of the day, when you've set up your camp, there's nothing better than a hearty meal to help you relax, unwind and recharge. Nothing says comfort food quite like our Pasta Bolognaise. This is a fabulous combination of juicy and tender minced beef cooked in a delicious, rich Italian tomato and herb sauce and mixed with pasta spirals.
RICE PUDDING WITH STRAWBERRY
Rice pudding is a great taste of home and a fantastic comfort food. Our Rice Pudding with Strawberry is no exception. The delicious, creamy rice pudding is combined with tangy strawberry pieces to create a wonderful dessert that's perfect for treating yourself at the end of a busy day of exploring.
CHOCOLATE MOUSSE WITH GRANOLA & CHERRY
The finishing touch to any meal, no matter where you are, is a fantastic dessert. Our indulgent Chocolate Mousse is a fantastic finishing touch to any meal. It combines rich chocolate with honey oat clusters and sour cherries to create a fabulous mouth-watering dessert.
CUSTARD APPLE CRUNCH
For a delicious and warming sweet treat, look no further than our Custard Apple Crunch – a perfect pudding to finish off any camp meal.
DELIVERY & RETURNS
Learn how to edit the text in this section by looking at your theme's notes section