Expedition Foods Dry Food Meal Camping & Hiking Scout MRE Pouches freeze dried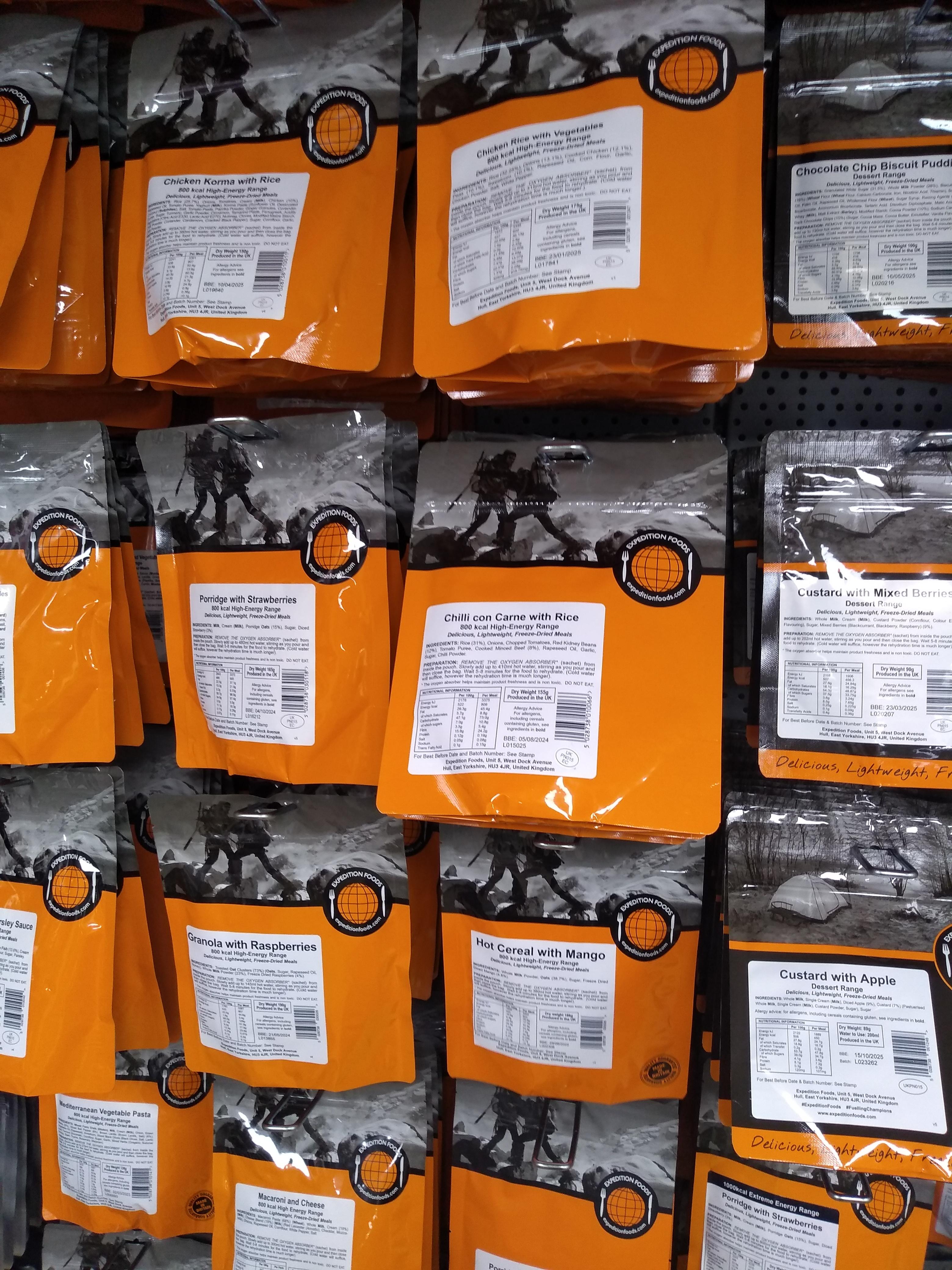 Expedition Foods Dry Food Meal Camping & Hiking Scout MRE Pouches freeze dried
450, 800 and 1000kcal camping meals.
 Established in 1995, Expedition Foods has been providing top quality freeze-dried meals to internationally acclaimed explorers, rowers, sailors, endurance athletes and mountaineers as well as campers, scouts, film crews, military personnel and rescue service teams all over the world.
Expedition Foods' delicious light-weight meals provide the perfect nutrition for a wide range of outdoor pursuits.  Sold globally, Expedition Foods is recognised as one of the top brands of freeze-dried meals available in today's market.  Manufactured in Britain, Expedition Foods is the expert in producing meals that retain all the nutrition of a perfectly balanced meal in a single, light-weight packet.  Our meals deliver the fuel and balanced nutrition required for the most gruelling of challenges; to summit our highest peaks, to row our oceans, and to traverse the remotest wildernesses on our planet.
Expedition Breakfasts
Breakfast is often called 'the most important meal of the day', and for good reason. Breakfast kick-starts your metabolism, helping you burn calories throughout the day. It also gives you the energy you need to get things done and helps you focus during the day. Expedition Foods offers a wide variety of breakfast options including porridge, scrambled eggs, granola, custard and pudding.
Expedition Lunch & Dinner
With 16 recipes for lunch and/or dinner, Expedition Foods provides chicken, beef, fish, vegan, vegetarian, gluten-free and dairy-free options. Freeze-drying food is the most successful method of preservation, making the meals taste better, weigh less and last longer. We use the best process globally to produce freeze-dried meals cooked using the freshest ingredients that can be rehydrated in minutes.
Expedition Desserts
Sweet snacks increase the production of the so-called hormone of happiness. Expedition Foods offers four popular desserts: Custard with Apple, Custard with Mixed Berries, Chocolate Chip Biscuit Pudding and Rice Pudding with Cinnamon. Don't worry, you deserve it.
For allergen please check pictures, if unsure please contact
DELIVERY & RETURNS
Learn how to edit the text in this section by looking at your theme's notes section