British Army MOD Ration Pack MRE Meals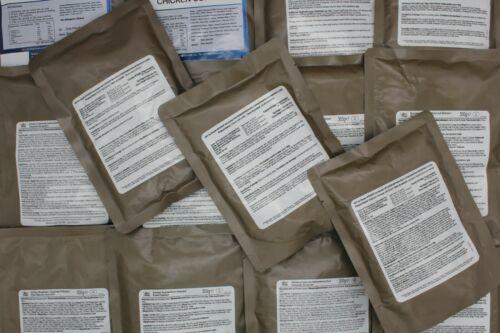 British Army MOD Ration Pack MRE Meals
Please note that the Best Before dates listed below, may change when we get new meals in, so for the exact date please message us.
All Meals are 300g unless stated below.
(V) - Vegetarian
Please note that all our products are Best Before (Taking from .gov website)
The best before date, sometimes shown as BBE (best before end), is about quality and not safety. The food will be safe to eat after this date but may not be at its best. Its flavour and texture might not be as good.
Pouch Choices:
All Day Breakfast              Jun-24
Beef Chilli            May-24
Beef Meatballs & Spaghetti Hoops (Tomato Sauce) 400g                 Feb-22
Chickpea Curry                 Aug-25
Chicken & Lentils              Jan-23
Chicken & Vegetable Biryani 400g             Feb-22
Chicken & Vegetable Curry with Rice        Apr-23
Chicken Casserole            Aug-23
Chicken Curry          Aug-23
Chicken Curry (No Rice)        Jun-22
Chicken Dopiaza               Nov-23
Chicken Tuna & Rice         Dec-24
Chicken with Lentils (Halal)          Dec-22
Chilli Con Carne      Aug-23
Chocolate Brownie          Sep-22
Chocolate Pudding in Chocolate Sauce 200g         Dec-22
Frittata 350g      May-23
Halal Pasta Bolognese        Nov-22
Lancashire Hot Pot          Jun-23
Meatballs & Pasta            Oct-24
Muesli with Milk Berry 170g (Freeze Dried)          Dec-23
Muesli with Milk Chocolate 170g (Freeze Dried)        Dec-23
Muesli with Milk Granola 170g (Freeze Dried)       Dec-23
Pasta Beef & Tomato Sauce (Halal)           Aug-22
Pasta Bolognese 400g          Feb-22
Pork Pasta Bolognese         Sep-22
Pork Sausage & Beans        Jun-24
Rajma Masala          May-23
Sausage Casserole           Oct-22
Spicy Sausage & Potato Wedges                Sep-22
Spicy Vegetable Rigatoni               Feb-23
Steak Vegetable & Dumplings       Apr-25
Tomato Pasta Salad          Dec-22
Tuna Pasta           Feb-22
Tuna Spicy (Chilli) Pasta                 Jun-22
Veg All Day Breakfast        Mar-25
Vegetable Curry                Aug-23
Vegetable Curry & Rice        Feb-24
Vegetable Korma             Aug-25
Vegetables with Pasta         Nov-22
Vegetarian Sausage with Beans         Dec-22
Vegetarian Sausage, Tomato & Potato      Feb-24
Allergens: MILK,WHEAT,EGG,CELERY,MUSTARD,SOYA,MUSTARD
please see label on picture for exact allergens
DELIVERY & RETURNS
Learn how to edit the text in this section by looking at your theme's notes section